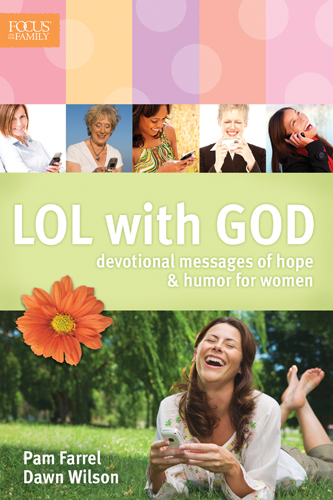 I don't usually jump at opportunities to review devotional books because I often feel like they're lauded as [sorry] substitutes for reading the Word of God. However, I've read a couple of books by Pam Farrel before, and I like her ability to be funny without allowing her humor to overshadow the Gospel. That's how I ended up with
LOL With God: Devotional Messages of Hope & Humor for Women
by Pam Farrel and Dawn Wilson.
As I expected, the hope was a constant throughout each devotion, and the humor was just right. My typical concerns with devotional books were assuaged as I read the first devo: "We're glad you're reading this devotional, but that's not even the same as choosing intimacy with God. Even this book can become a 'glowing screen' of distraction from sitting at Jesus' feet. We pray that you'll read and saturate your thoughts with God's words in the Bible…and grow in your love for Him." Amen to that.
Each devotion includes:
A Bible verse to start it (see more on that below)
A short story to drive home a biblical principle
A brief prayer (in a section called "Send Up a Message")
Some additional verses (called "Text Helps")
Space for you to write a response to God ("Your Turn")
A joke or funny story (simply titled "LOL")
My one dislike: I think they tried too hard to be hip. The Bible verses at the start of each were written in text speak, more aptly described in most cases as text
babble
to the extreme. A decent example: "Kp urslves in Gods luv as u w8" (Keep yourselves in God's love as you wait, Jude 21). A ridiculous example, which is what most were: "w t tmptashn He wl lso prvd t wy o escp" (With the temptation he will also prvide the way of escape, that you may be able to endure it, 1 Corinthians 10:13). If you've ever talked to me about text speak, you know that I think it will be the downfall of polite and educated civilization and that I struggle not to think less of people who use it extensively, particularly outside of texting. This is why I only began texting about ten months ago. I still don't love it. In other words, I'm biased against it, so I'm not certain that what I dislike here is due to my pet peeve or legitimate criticism. In a positive light, though, I did spend more time meditating on each verse because I had to decipher it first.
If you like text speak and are looking for a light-hearted but biblical-grounded devo, this is a good option. (But don't blame me if your text babble dismantles the foundations of democracy.)
Many thanks to Tyndale House publishers for providing this book for my review. They didn't ask me to provide anything other than an honest review, and I'm thankful that they communicated with me in complete sentences free of text jargon.